NOREAST'R TEAM CHARTER BOATS
Click the Charter titles to book your trip on one of our team charter boats!
New Jersey | New York | Connecticut | Florida | Cabo San Lucas | Costa Rica | Alaska
---
Whether searching for a doormat fluke, chasing stripers inshore or big game fishing for sharks and tuna offshore, the thrill awaits.
The Fish Monger II x 16' custom inspected charter vessel licensed for 37 passengers. 21 knt cruise powered by twin 450 Cummins. Fitted with all the latest safety and fish finding equipment. 3 gps - 2 radars - 2 radios - epirb - and life raft for 22 passengers. For your comfort the Fish Monger II is equipped with heat and AC, dinette area, large forward bunks and a full front cabin with kitchen area containing refrigerator, freezer, microwave, coffee station, fresh water sinks and a large household rest room.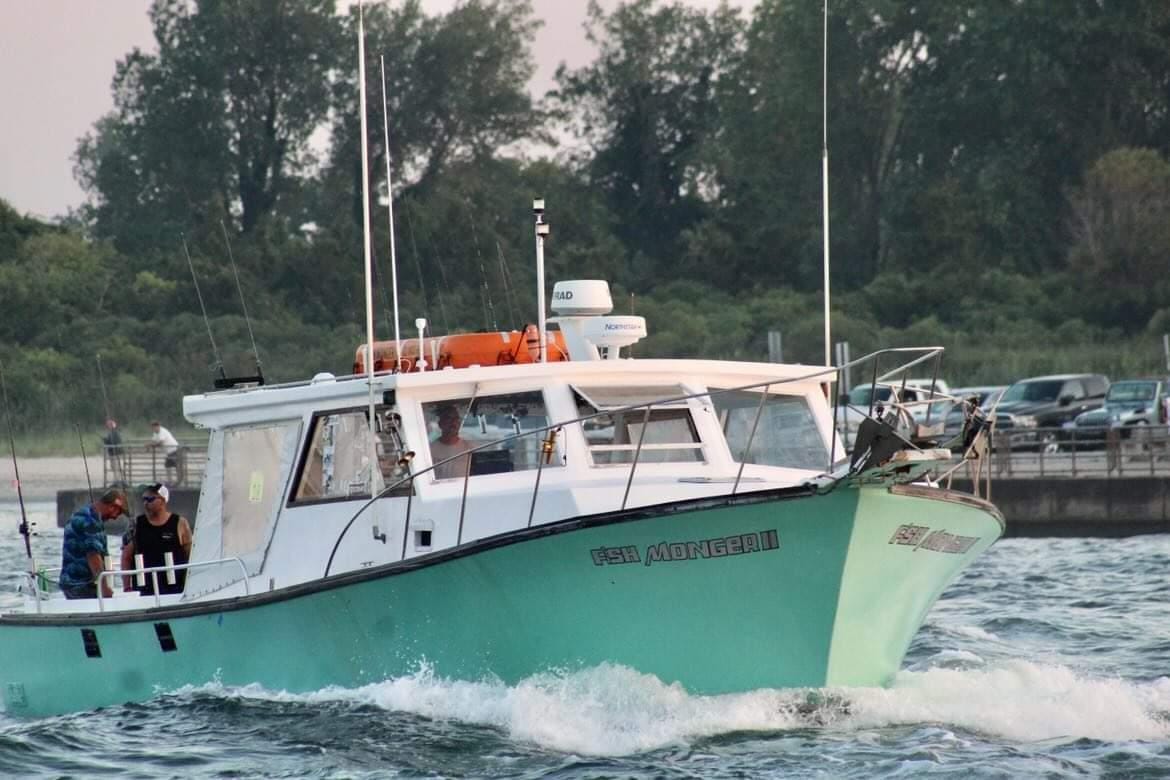 Capt. Jerry has worked on numerous large party and charter boats on both deck and at the helm for over 20 years. Before the age of 24 Capt. Jerry had skippered four different well respected party boats in the Pt. Pleasant area. Now on his 16th season as owner and Operartor of Fish Monger Charters Capt. Jerry has found his home in the charter business. Fish Hard and Fill the box "The Monger Way" Fishing is a full time job and way of life to Capt. Jerry. Those who come fishing with Capt Jerry leave as a friend.
Mate - Stephanie Safar
Mate on Rock Bottom Charters & Fish Monger Charters Stephanie has been fishing since she was 2 years old. Her father, capt. Ron, started Rock Bottom Charters in 2014. Stephanie began working as a mate on her fathers boat when it was established. During the summer of 2018 Stephanie began working on Fish Monger Charters with Capt. Jerry.
Mate - Marie White
Being on the water is one of Marie's favorite things- catching fish, crabs, and catching some sun is always a great day. Marie been fishing since she was a little kid. Marie's grandfather taught her the ways around the ocean. She loves to fish for seabass and fluke with her very own personalized pink rod and avet real. Fishing can we tricky and she's always up for the challenge. Marie has been a part of the fish monger crew for almost 6 years.
---
Sea Beast Sport Fishing Charters is the ultimate way to experience the thrill of wreck fishing, stripers, sea bass, blackfish, fluke, trigger fish, shark and more! Our experienced captain provides personalized service and expert guidance to ensure that you have an unforgettable experience. We offer deep sea fishing trips and other private fishing charters where you can catch a variety of fish
Captain Dustin Strehl started fishing at a young age. He grew up in Port Monmouth, NJ and fished down at the Belford Co-op with his life long friend, Johnny Adubato on Johnny's dad's boat, the "Johnny Boy." Dustin got his boating license and first boat at the age of 13 and fished the local waters. At the age of 16 he got his first job as a commercial fisherman on his neighbor's bunker boat. It was then he realized his passion for fishing. He has worked on many boats and fished a lot of tournaments up and down the East Coast, including the ASA, American Striper Association, where he learned many different techniques on fishing for striped bass. Dustin worked as a Mate on charter vessels before starting his own business. In November 2016, Dustin caught the Fish of a Lifetime, a 22.5 lb Tog. He now holds the IGFA line class World Record for 20 lb test line. Trips normally run 6-8 hours but you'll often times hear him say, "I don't punch a clock".
---
Chasin' Tail Sportfishing is a charter fishing operation that specializes in both inshore and offshore fishing charters just 10 minutes from the Atlantic Highlands in Monmouth Cove Marina in Port Monmouth, NJ. Our services provide customers with a full hands on fishing experience for both novice and hardcore fishermen, your vessel is a 2000 3070 Pursuit Offshore Powered by twin 250 Yamaha engines. With a cruise speed of 30mph and a top end of 50+ we will get you to the grounds fast and safe.
Captain Joe DeGruttola is a US Coast Guard Licensed Captain with an OUPV Near Coastal to 100 Miles offshore certificate. He has been fishing and running boats from the Raritan Bay for the past 15 years and has fished for all species of fish from inshore to offshore.
Joe has also participated in many tournaments that include Monster Shark, Mako Mania, White Marlin Open, Mid-Atlantic 500, Mid-Atlantic Rockfish Shootout, and many other striped bass tournaments on the ASA Striper Trail.
---
The Fisher Price IV is a full time professional charter boat sailing out of Highlands, NJ. Whether you are a seasoned angler or it's your first time fishing, our experienced crew will be there to show and guide you to possibly the catch of a lifetime.
Come experience a great day of fishing the local waters surrounding Sandy Hook, the New York Bight and the offshore waters off the Jersey Shore. We operate a 31 foot 2006 Contender CC with twin 300hp Suzuki engines equipped with the latest electronics and a large cockpit for fishing.
While specializing in the spring and fall striped bass runs, we fish for all species that transit our inshore waters from stripers, bluefish, fluke and blackfish to offshore species of shark and tuna.
You will find top of the line equipment from Avet reels, Jigging World rods, Cortland Line, Nomad Design Tackle, Madd Mantis Tackleworks, OMT bucktails, Guide Secret Lures and Tony Maja Products, as well as many others to ensure the best possible chance that you will land the catch of your life.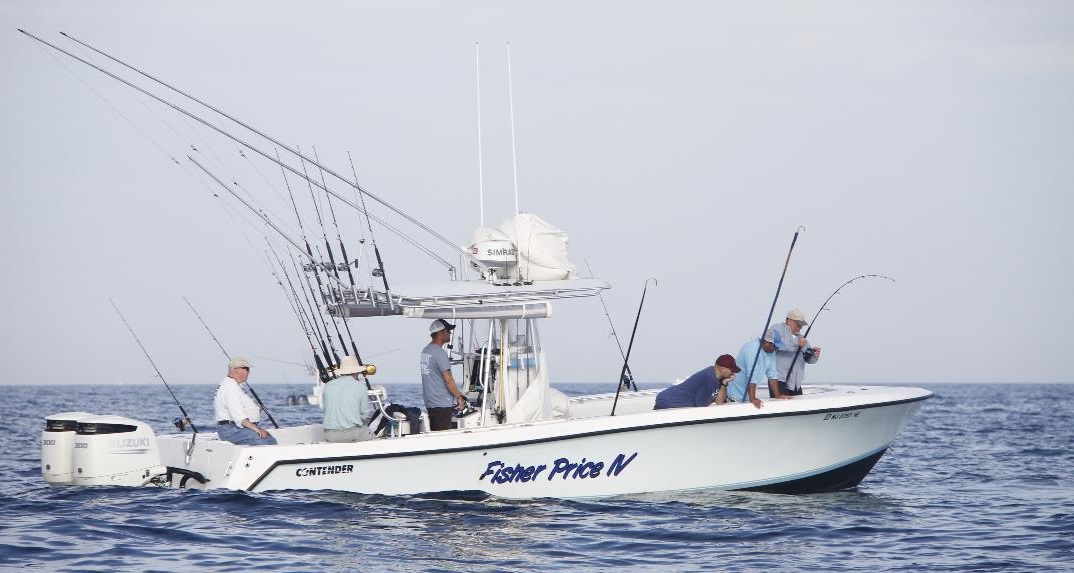 Captain Derek is not only a Captain but an avid fisherman. Derek has always had a passion for the water and an instinct for landing fish. From winter flounder in the rivers and bay, to live lining adult bunker for trophy striped bass, to jigging in the canyons for bluefin and yellowfins, Derek makes the most of his time on the water looking for trophy fish for his clients and himself. He has personally landed 5 striped bass over 50 pounds and 8 doormat fluke over 10 pounds. Derek continues to have the driving ambition to look for bigger and better fish, mixing new techniques with old reliable ones.
---
Specializing the inshore and mid range waters from deep in the Raritan Bay to Barnegat , NJ and out to the deep. Bottom Fishing & Striped Bass are what we do best. Targeting Striped Bass, Fluke, Sea Bass, Blue Fish, Black Fish and many others. FISH STIX, the best Charter Fishing Experience!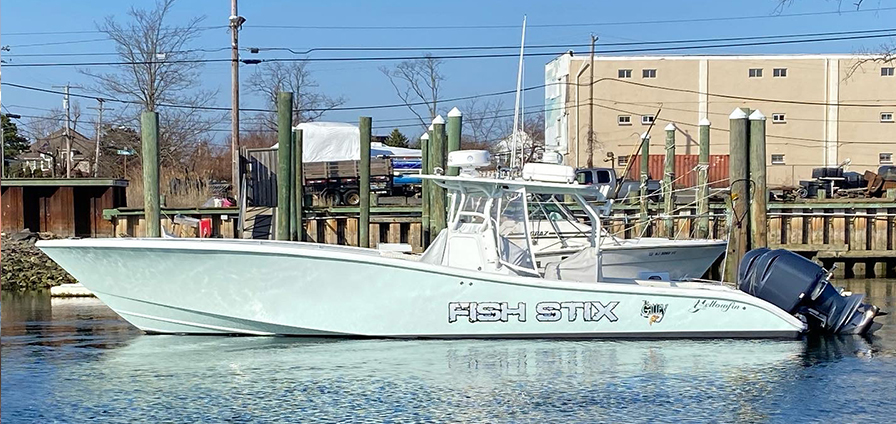 Captain Kris Black has over 20 years of fishing New Jersey's inshore waters. That's most of his life. Putting fish on the deck is what he lives for and he'll do whatever it takes. If you have fished with him, you already know, he knows where to find the fish. The amount of business, regular customers, pictures and fishing reports of record catches that he has produced over the years, speaks for itself.
Specifically Bottom Fishing for Fluke, Seabass, Ling, Porgies and Blackfish, also targeting Striped Bass and Blues. Capt Kris is an EXPERT live bait fisherman for Stripers. Captain Kris holds a 50 ton Masters U.S.C.G. License. He is a career fisherman, not part time or "side job to cover costs" running the boat full time, 7 days a week and his reputation is ALWAYS on the line.
---
The 50' Gypsea 2 is a custom built Arrow Yacht that is uscg certified for up to 39 passengers. We specialize in limited load fishing for all inshore species in season. We welcome anglers of all ages from beginners to hardcore fishermen. Family owned and operated, we pride ourselves on the pleasant atmosphere for a fun filled day on the water.
Captain Josh has fished all over the island in search of trophy catches. His dedication and drive in putting customers over fish is what keeps them coming back. you will definitely have a fun filled trip with him at the helm.
Captain Jess enthusiasm for the industry is second to none. Growing up fishing and working on boats, Jess acquired the knowledge and skills required to one day own an operation of her own. Her knowledge of Jamaica Bay is second to none, and you are guaranteed to have a memorable trip when she is on the boat.
---
NOVEMBER RAIN CHARTERS fishes both inshore and offshore, with every trip including the finest tackle, bait, ice, fishing cleaning services, and an experienced, courteous and fun crew. The NOVEMBER RAIN is perfect for accommodating large groups for fishing, sunset cruises and private parties. Captains Jill and Steve welcome beginners and experienced anglers alide, as well as families and children. Call or email us to book your charter or party about the NOVEMBER RAIN today.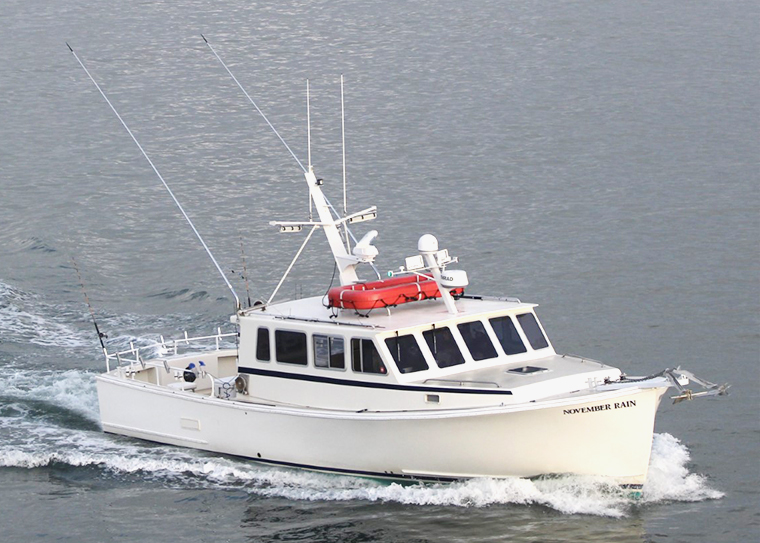 Captain Steve, who grew up fishing and loves nothing more than being on the water, is on the boat all season long and is present on every trip. Steve's been fishing the East End since the 80s, and has been running a boat in Montauk for over 20 years. On days when the boat's not fishing, you'll often find Steve doing dock work, including cleaning, maintenance and repairs, rigging new tackle, or anything else needed to ensure we continue to run a top-notch operation. There's always something to do!
Captain Jill, who started fishing with Steve over 25 years ago, got her first taste of Montauk in the mid-90s. Nowadays, most of her time in Montauk is on the weekends, when she runs the boat along with Captain Steve. In addition to ensuring she puts her customers on the fish (creating a little friendly competition with Steve!), Jill is primarily responsible for the "behind-the-scenes" business activity, including finances, advertising, and USCG compliance, to name just a few. Captain Jill also serves as Secretary for the Montauk Boatmen and Captains Association.
---
FISH HUNTER EXPRESS
The Fish Hunter Express was Custom Built-in 2005. It is a 50' DMR: PERFORMANCE MARINE Yacht with Twin John Deere Marine Diesels that are Turbo Charged for a 20 knot Cruise. (Maximum Capacity up to 40 passengers)
Some of the Express' unique features include having a Norhtern Lights generator, a Full Galley on board, Surround Sound Audio, USCG Certification for up to 40 passengers and fully loaded with a full hydraulic system for easy double anchoring over wrecks, reefs and rockpiles. This vessel sports a ton of spacious fishing room as a full walk around boat with a beautiful wide pulpit
---
THE FISH HUNTER
Our Private "6 pack" Charter is a 35' Pickerell Downeast that's powered by a 275 HP Cummins engine. The onboard amenities include top of the line electronics like a GPS unit and fish finder devices, a fully-flushable toilet, and a wheelchair ramp. There's plenty of room here for up to 6 anglers to fish in comfort all day long.
Speaking of fishing, you're going to love the spectacular angling opportunities found in the Long Island Sound. Some of your main targets will include the likes of Striped Bass, Bluefish, Black Seabass, Flounder, and many more. Anglers of all ages and skill levels are welcome to try their hand at this top-notch fishery.
---
THE FISH HUNTER II
This Sisu Portsmouth 30, designed by Royal Lowell, is an exceptional Downeast Cruiser. They have been proven to be an excellent sea boat which offer a dry ride in rough water while providing comfortable cruising accommodations.With a fiberglass hull and a 210hp Cummins diesel Engine, this vessel is made for power.
Captain Austin Desatnik
From the age of 4 on his fathers 21' mako, to his own 16' skiff at only 13, Captain Austin's lifetime of experience fishing in the Long Island sound is incomparable to most. Austin's love of fishing has grown into his the Fish Hunter Charter business he created with lifelong friend and fishing buddy, Joe Landi.
Captain Joseph Landi
Captain Joe will do his best to make your angling dreams come true. He fell in love with fishing at a young age, and that flame is still burning strong. He's very experienced when it comes to spots and has a lot of secret wreck numbers to explore!
---
Come aboard his 35' Bertram sport fisher, that is fully-equipped to take up to 6 people to new fishing horizons. With its twin 250 HP Cummins engines, the vessel is stable, fast on the waves, and can take you to offshore fishing grounds in about 30 minutes.
When it comes to your prey, there's a wide array of species you can hook, and your guide is happy to customize the trip to your fishing ambitions. Whether it's majestic Sailfish, tough-fighting Wahoo or delicious Mahi Mahi and Tuna you're after, Capt. Dave can make it happen. If you prefer bottom fishing, then Grouper, Snapper, and Amberjack are all in the card
Captain David Allen takes great pride in providing everything you could possibly need, including top-line rods and reels, cut bait, and an assortment of lures. If you want to use live bait, it can be purchased on the way out or caught with the captain. The boat sports a flybridge and outriggers, so you're covered on all fronts.
Looking for an exciting day on the water as you look for a chance to hook your next trophy? If the answer is a resounding yes, then Soflo Sportfishing has a lot to offer you. Let local Captain Dave Allen show you what Fort Lauderdale fishing is all about, and you'll probably be back year after year.
---
Fish like a Pro!! The Big Kahuna II is a very special boat purchased in 2015 by Lands End Charters and partners. This boat is unique, not just with the custom boat wrap but with all of the top of the line gear on board.
The Big Kahuna II was set up for both offshore and inshore fishing. Besides having the power from the twin Yamaha outboards to go after the biggest of the big, we will give you a rod and casting reel to test your skills inshore as well. This boat is for the person who wants to get involved, try some killer gear and tackle and have a great time with an awesome crew. Hurry amigos, this boat is already booking FAST! There is NO other boat like this in Cabo, Guaranteed!
---
Fun, Affordable and a veteran Captain Ready to Get After It! The 28 ft Big Kahuna III was recently purchased, retrofit and is ready to rock and roll.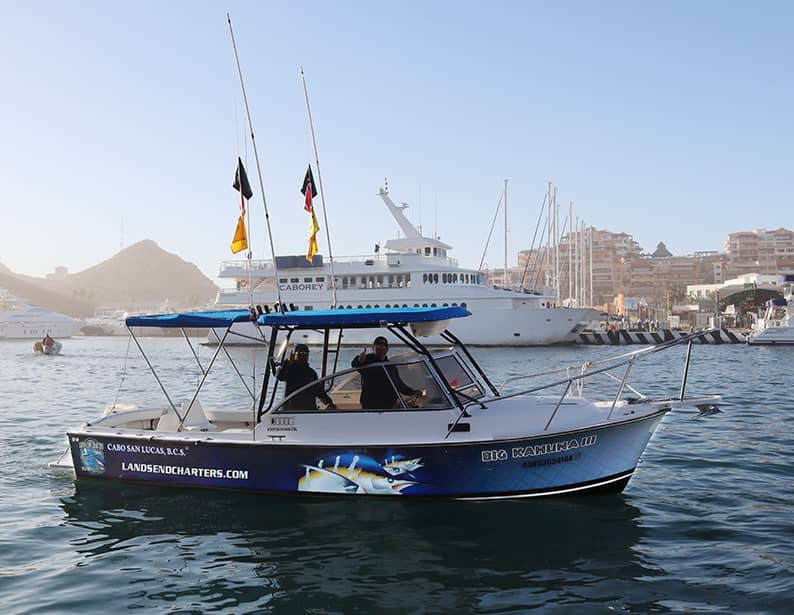 The 28ft Shamrock has a wide open cockpit perfect for fighting billfish, tuna and more. Perhaps the best feature of this boat is the highly experience captain with over 30 years of local Cabo fishing experience. 2 Fighting Chairs and an extra Bimini Top for shade make this a great option for families and serious anglers alike.
---
Fish with one of the Best fishing guides in Cabo San Lucas, Mexico!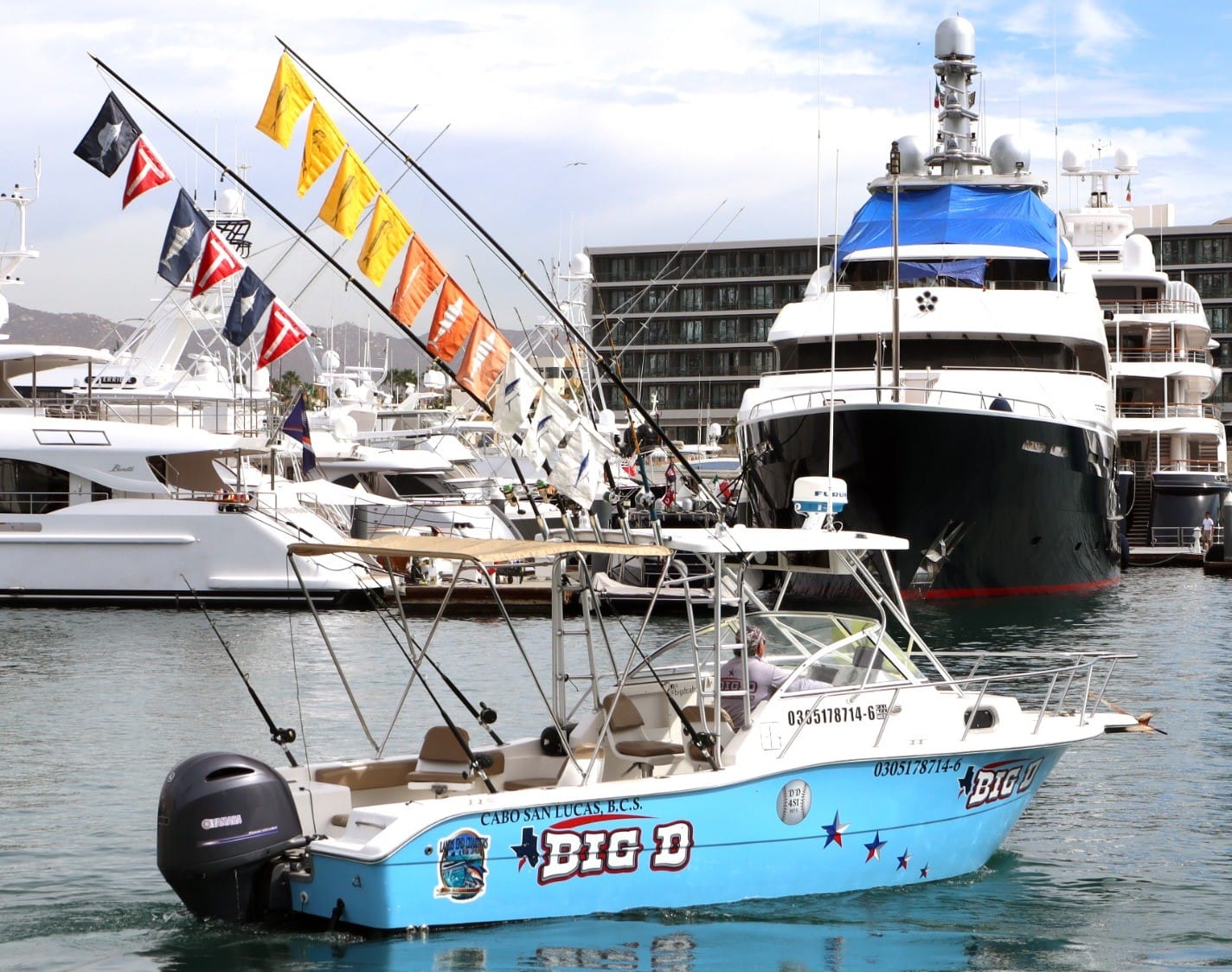 The 26ft Big D is a very special boat in more ways than one. The boat is a tribute to a home run hit in 1975 by a partners father. Captain Victor's father is memorialized in Cabo with a bronze statue near Medano Beach as a pioneer of Cabo fishing. The boat represents all of our memories of spending time fishing with our dads.
---
Lands End Charters is a family owned and operated fishing charter company based in Cabo San Lucas, Mexico. Lands End offers guests an awesome 22ft center console super panga the Crazy Tuna for inshore fishing targeting Roosterfish, Dorado, Wahoo, Yellowtail and more. Outfitted with outriggers, fighting chair and a full set of Shimano reels from 30W to spinning set ups.
Captain Christopher is an expert guide for inshore Panga fishing in Cabo San Lucas. He speaks good English and is known for working hard for getting folks on fish. If you're looking for a great Cabo San Lucas inshore fishing guide Captain Christopher is your man.
---
28' Custom with twin Cummins Diesels
Contact Captbutch@aol.com Or 201-321-9527
Captain Carlos Arguedas has been fishing the area of Herradura Bay since 1990, along the shores for rooster, blue fin Trevally, etc. and the nearby reefs for big Cubera, Goliath grouper, amberjack and Broomtail groupers . Captain Carlos has also fished central and South America and the East Coast of United States. Now based at Los Sueños Marina The WING MAN boasts of being the boat with the most inshore trips in Herradura Bay which consistently keeps them dialed in on the larger fish. Come get your bucket list fish and enjoy exceptional accommodations, Hospitality, great food with easy travel to Los Sueños Costa Rica.
---
43' VIKING (refurbished and re-powered with Cummings diesels) Air-conditioned with all the comforts for cruising to the fishing grounds.
Contact Captbutch@aol.com Or 201-321-9527
Captain Jose Chavarria has 30 plus years of Experience sportfishing in Mexico, El Salvador, Guatemala and the East Coast of the United States and of course Costa Rica where he has been a captain for 15 years. Captain Jose and the crew of the SUELTALO 2 Fish the warm calm waters on the Pacific side of Costa Rica sailing out of Los Sueños. It's not unusual to raise 10+ billfish in a single day trip with a possibility of a grand slam. Hopefully you'll add a few Mahi-mahi or yellowfin tunas for a tasty dinner. Los Sueños offers world class Bill
Fishing as close as 25 miles from the marina. Come enjoy some of the best Bill Fishing in the world and enjoy excellent accommodations, hospitality, great food and easy travel to Los Sueños
---
When you stay and fish with Alaskan Fishing Adventures, you are in command of your fishing experience. We offer your choice of chartered saltwater day trips out of Homer or Seward where you will catch king salmon, silver salmon, halibut, ling cod, rockfish and yellow eye. For the most adventurous anglers, our overnight trips offer legendary experiences famous for hauling in limits of huge fish time and time again.
Alaskan Fishing Adventures offer the best package of Alaskan fishing options available anywhere in the The Last Frontier. Although we offer day-trips for locals and vacationers, most of our return customers prefer to stay with us three days or more, utilizing our all-inclusive lodging and fishing packages.
Captain Serena Melville is a hardworking local gal from the small town of Seward, Alaska. She fell in love with fishing at a young age, due to her father being a long time commercial fisherman. She has been working on boats since she was 13. Serena has a vast knowledge of the local water and fishing. She has put her 100ton licesnse to good use, by putting people all over the world on fish and showing them a upbeat positive attitude no matter what, making it a great day out on the water.
---
NOREAST'R TEAM
Tony Maja Jr.
At 42 Tony Maja Jr has been fishing as long as he can walk. Growing up with a Striped Bass Trolling Innovator Tony Maja Sr. As a dad. Tony Jr. has been fishing since the age of 8 and has 4 Striped Bass over 50 pounds under his belt. He worked closely with his dad to perfect the Art of Bunker Spoon trolling for trophy Striped Bass. He now has taken the Reins of the Business and trying to keep what his father built going strong.
---
Nino Aversa
Ron Redrow
The El Nino Saltwater Fishing Team is based in Southern NJ. They are a group of seasoned anglers with collectively over 40 years' experience on the water predominately growing up fishing around the waters off Wildwood, Cape May, and Delaware Bay . They fish all facets of saltwater from the back bays to 100 miles offshore. Including many tournaments and a grueling schedule of recreational trips. The team is on the water 10-11 months out of the year as many days that conditions allow. For their team a hobby has turned into a passion that they will keep pursuing for a long time.
The traditional recreational fishermen keeps their boat in a slip for the season or trailers to their local waters. Every year the ELNino a (2320 Parker Pilothouse) stays on the trailer and they tow it to some of the most desirable places to fish on the East Coast. During their season they travel to most common coastal areas from Ocean City Maryland to Raritan Bay, Long Island, and Montauk New York selectively strategizing where the best place fish week to week. Doing so they have established a vast combination of exposure and great relationships with fishermen, charter captains, tackle shops, and tournament directors all throughout the fishing communities. The relationships, the memories, the laughs along the way is what keeps them living the dream.
---
John Adubato - Port Monmouth, NJ
Marilou Geverola - Port Monmouth, NJ
James Best - Lincroft, NJ
Zachary Frankel - Wall Township, NJ
Jared Shukis - South Amboy, NJ
Shannon Ehinger - Ocean City, MD
Aaron Ciccia - Belford, NJ
Kevin Staub - Middletown, NJ
Joseph Miele - Leonardo, NJ
Joe Zagorski - Manasquan Park, NJ
Michael Ruttkamp - Wilton, CT
Kyle Tighe - Trumbull, CT
Justin Liptak - Saratoga Springs, NY
Bruce Stout - Point Pleasant NJ
Philip Tumminia - Staten Island, NY
Nicholas Tennaro - South Amboy, NJ
Kevin Macarthur - Highlands, NJ
Doug Larsen - Union Beach, NJ
---